MultiPlan, the secret back-end to most of the insurer industry, is going public
In a recent announcement, MultiPlan, an entity offering a shadow provider network to insurers, declared that it was going public through a SPAC. Upon closer inspection, MultiPlan represents some of the worst aspects of American health care.
The world of health insurance is deliberately murky. There are monthly premiums, basically a subscription to access the insurance; deductibles, which are minimum amounts a patient pays before the insurance kicks in, usually in an emergency or surgery setting; and co-pays, which are additional fees the patient pays for the privilege of seeing a doctor, usually $20-70.
All of the patient-side fees are confusing, but the provider-side is even more so. Insurers handle negotiations with doctors and hospitals (and, importantly, negotiating with a doctor does not necessarily mean the insurer has negotiated with the hospital and vice versa) to reach a set price for a specific service. These prices are negotiated down from the hospital or physician's chargemaster (a list of prices). The chargemaster bears no relation to actual charges but is instead the provider's best attempt to set a high bar at the outset of a negotiation process. When an uninsured patient is billed an extraordinary amount, it's usually because they didn't have the negotiation layer of an insurer built in.
The purported value add of insurers, then, is that they lessen costs for patients by handling catastrophic expenses and negotiating down high provider fees.
For a few reasons, this isn't wholly true. For one, health systems are increasingly merging with insurers, meaning any "negotiation" on behalf of the patient is happening within two divisions of the same company.
But also, many insurers are doing much less negotiation than they make it seem.
The corporation also uses a Palantir-like combination of algorithm and human to root out "fraud and abuse" in payments.
Three weeks ago, a new merger announcement threw the health care world into a bit of a tizzy. MultiPlan, a complementary PPO network, announced it was going public via a SPAC. The announcement forced quite a few people to start looking up what MultiPlan actually does, including me.
MultiPlan, it turns out, is a corporation that handles a lot of insurers' work for them. It handles negotiation with providers nationwide and consequently has the largest preferred provider network in the country. This means that insurers can contract with MultiPlan and simply get access to MultiPlan's network, rather than doing thousands of negotiations. This service is so valuable that all 10 of the top 10 insurers use it, and the corporation seems to have carved out a little monopoly at the top.
MultiPlan didn't start with so much power. It was founded in 1980 to solve an growing problem: when people traveled, their narrow network insurance plans didn't follow them. If a person from Delaware had an accident in Colorado, they likely fell out of network and did not receive insurance coverage. To fill this gap, MultiPlan formed a network of "shadow contracts," negotiated rates with providers that fell outside most networks, and sold this network to other insurance plans.
Over time, as the main insurers became bigger and more national, these shadow contracts became less important. But MultiPlan remained at the top of the insurer network, mostly because the Affordable Care Act of 2010 triggered an avalanche of startup insurers (Oscar, Clover, etc.) while also mandating that insurers cover out-of-network emergency care (although it did not ban surprise billing). MultiPlan offered these smaller insurers an easy way to access a large network of providers.
In 2006, private equity firms began eyeing MultiPlan as a valuable service with few competitors, a market position that only grew after the aforementioned 2010 ACA devlopments. Over the ten years from 2006 to 2016, MultiPlan changed hands between PE firms no fewer than four times. Meanwhile, MultiPlan was also making large acquisitions of competitors and firms in adjacent spaces:
2006: MultiPlan acquired by Carlyle Group for $1 billion
2006: MultiPlan acquires PHCS, the largest primary care network in the US
2010: MultiPlan acquired by BC Partners and Silver Lake for $3.1 billion
2010: MultiPlan acquires Viant, another competitor
2011: MultiPlan acquires NCN, a reimbursement management platform
2014: MultiPlan acquired by Starr Investment Holdings and Partners Group for $4.4 billion
2014: MultiPlan acquires Medical Alert & Review, which identifies wasteful billing
2016: MultiPlan acquired by Hellman & Friedman for $7.5 billion
Not only did MultiPlan's value increase by a factor of more than 7 times over 10 years—its owners "cleaned up," in the words of a Wall Street Journal blog post— it also acquired many of its potential competitors. To my knowledge, MultiPlan no longer has competitors. It's just MultiPlan and the insurers that use it.
Following some of these acquisitions, MultiPlan expanded its service offerings beyond provider negotiation. The corporation also uses a Palantir-like combination of algorithm and human to root out "fraud and abuse" in payments. And for insurers who worry about what their members think of them, MultiPlan offers a set of analytics services that "balance[s] out-of-network savings and member service."
From what I can tell, this means MultiPlan has a side business in blocking certain treatments and medications to save the insurer money, or at least making things very hard on doctors who try to prescribe expensive care.
This makes sense from MultiPlan's perspective, as MultiPlan's revenue (as far as I can tell—they're not yet public) comes from a combination of the contract fees that insurers pay to access MultiPlan's network, in addition to a percentage of the "savings" MultiPlan gets for insurers by routinely lowballing doctors.
Theoretically, MultiPlan's harsh negotiation tactics should be good for rising American health care costs; insurers are supposed to lower costs by negotiating lower prices on behalf of the patient.
But instead, MultiPlan acts like a mafia enforcer for insurers, forcing doctors to accept low payments while insurance premiums for patients…somehow continue to rise.
MultiPlan's key strategy for forcing doctors to accept low prices is by erecting a bureaucratic layer so thick and complicated that few can navigate it. On one MultiPlan fax to a doctor that I saw, MultiPlan gave the physician 8 days to respond to a low-ball negotiation. "Please note that if you do not wish to sign the attached proposal," the fax said, "this claim is subject to a payment as low as 110% of Medicare rate as based on the guidelines and limits on the plan for this patient."
In other words, if the physician disagrees with MultiPlan's reimbursement offer, MultiPlan reserves the right to cut the price even lower.
MultiPlan preys on physicians using these subtly forceful faxes, expecting physicians' medical billing staff to not have time to fight through layers of bureaucratic tape. And according to a friend who works in medical billing, even if a staff member takes it upon themselves to complain about a low rate to MultiPlan, MultiPlan refuses to negotiate on the grounds that it is not the insurer.
Now MultiPlan is going public via a SPAC. There's a lot of money to be made in leveraging the fragmentation of the health care system and bending physicians to your will, and Churchill Capital looks ready to sweep it up.
Olivia Webb. (2020, August 5). MultiPlan, the secret back-end to most of the insurer industry, is going public. Acute Condition. https://www.acutecondition.com/p/multiplan-the-secret-back-end-to?fbclid=IwAR342wrhyNVpIY_mKp7HY8-6TlwXDFudVrJALD49ZZVvRbBJxdJnTAVyIp8
Insurance Companies are Being Sued by a Surgery Center that Had Enough
After being owed over $6M, Coast Surgery Center has had enough and is suing the insurance companies.
---
NEWS PROVIDED BY Yahoo News
Jan 16, 2023, 06:35 ET
---
HUNTINGTON BEACH, Calif., Jan. 16, 2023 /PRNewswire/ — Coast Surgery Center is an outpatient surgery center in the city of Huntington Beach, CA and has been in business since 2018. Coast is a facility for outpatient procedures offering healthcare related services. Just like most medical facilities, before services are rendered to a patient, the provider and facility obtain authorization with the insurance carrier for approval and are provided with the usual, customary, and reasonable (UCR) rate for the procedure. Based on the UCR rate provided by the insurance, the provider and patient understand that if they are to proceed, how much the insurance company will reimburse. All the information obtained is documented by both the insurance carrier and facility as a part of their policy and practice.
Coast provides services to its patients relying on the insurance representations solely based on their statements, promises, and representations. By authorizing a procedure, insurance companies are granting Coast to provide healthcare services to their members, and Coast is fulfilling the insurances' contractual obligations to its members.
The insurance companies significantly started reducing the reimbursement rate from UCR to below Medicare rate in 2018, and for some claims, they didn't pay at all. Since 2019, Coast Surgery Center accumulated bills totaling over $6M. So now Coast is suing some of the largest health insurance providers in the country; United Health Care, Cigna, Aetna, Anthem Blue Cross of California, Blue Shield of California, Blue Cross Blue Shield Associates, and all Blue Cross Blue Shield affiliated companies for illegal, coercive, unfair, fraudulent practices, bad faith and deceptive advertisements.
In the civil case #30-2022-01271476-CU-CO-CJC filed by Coast Surgery Center in Orange County, California, Coast states they billed Blue Cross $49,550 for a surgery and Blue Cross paid $202.99. This is an example for many of the underpaid bills. Insurance companies have had a history of lawsuits for underpaying. As of June 30, 2019, 43% of Anthem's medical bills were unpaid. By 2021, that figure rose to 53%, resulting in a total of $2.5 billion unpaid bills. Yet, Anthem's profits in 2020 were reported to be $4.6 billion and $3.5 billion in the first half of 2021.
These unpaid bills harm medical providers like Coast by failing to provide reasonable rates for its services, negatively impacting the quality of service, value of Coast, and significantly impacting Coast's business relationship with patients and prospects. With this lawsuit, Coast is hoping that the big insurance companies will stop taking advantage of small providers as Coast will continue to provide critical, quality healthcare services and treatment to its Defendants' members on its behalf and hope to be paid reasonable rates.
California Gov. Newsom says community spread started at nail salon
Reported by NBC News
May 8, 2020, 7:22 PM PDT / Updated May 10, 2020, 4:27 PM PDT
He said he couldn't provide more information because of health and privacy concerns.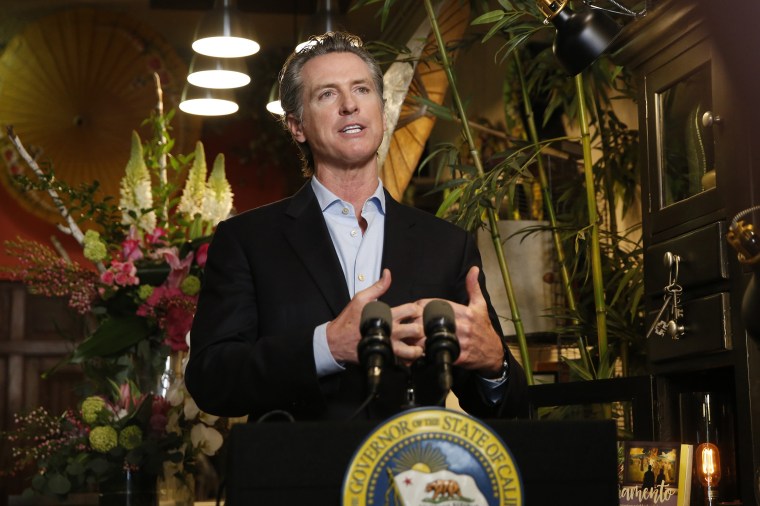 After dropping a provocative remark that community spread of coronavirus in California started at a nail salon, Gov. Gavin Newsom declined Friday to provide additional details about where the salon was located and how health officials traced the case.
"This whole thing started in the state of California, the first community spread, in a nail salon. I just want to remind everybody of that and that I'm very worried about that," Newsom said Thursday during his daily COVID-19 briefing in Sacramento.
On Friday, despite requests from multiple media organizations, he said he could not release more information because of health and privacy concerns. He added that his office would provide additional details when possible.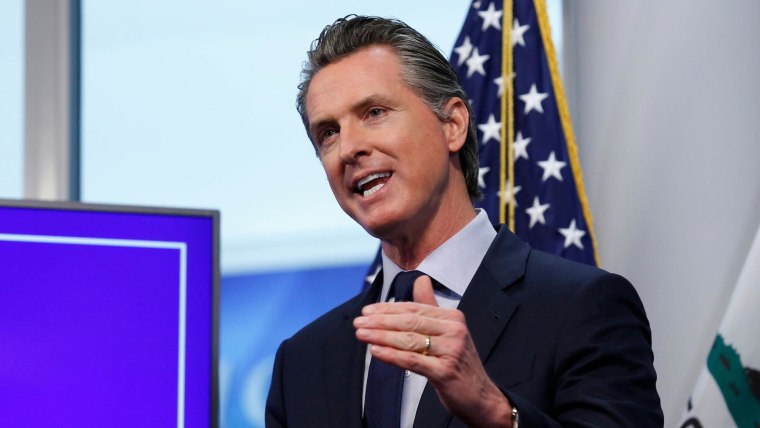 "There are, and I know everybody watching understands this, health and personal privacy obligations that are bigger than any public statements that have to be abided by, legal parameters, as it relates to that first case," Newsom said during a news conference.
The first known case of community spread in the California was reported in Solano County in late February. Officials more recently said the first known death from COVID-19 was recorded in Santa Clara County. Both are in Northern California.
Newsom's initial comment triggered immediate backlash from the beauty industry, which called his statement "surprising and disappointing."
"As a former restaurateur himself, the governor knows the daily struggles of small business owners such as the 11,000 nail salons in California where approximately 80 percent of salons are owned and operated by Vietnamese Americans," said Mike Vo, board chair of the Pro Nails Association in Irvine.
"It also pains us as law-abiding Americans living and working in California that the governor's remarks may contribute to further anxiety and even heightened fear in today's unfortunate toxic environment," he added.
Speaking from inside a Sacramento flower shop on Friday, Newsom addressed concerns that his comments could ultimately hurt the nail industry.
"Oh my gosh that industry is noble," he said. "It's an opportunity … an exit point out of poverty. It's one of the most entrepreneurial industries in our country. I have a deep reverence for those entrepreneurs."
He went on to add that the statement was not meant to be an "indictment" of the industry as a whole, but instead an explanation of why personal care services such as manicures will be included in the third phase of California's reopening and not sooner.
Despite attempting to distance himself from any negative fallout, an association of salons and barber shops said it would sue to try to force Newsom to let them reopen sooner, arguing they already undergo extensive training on sanitation and are licensed by the state, NBC affiliate KCRA reported.
The California Board of Barbering and Cosmetology recommends that nail technicians wear gloves and masks to protect workers from inhaling toxic chemicals, but it does not require protection for all services. Streamlining safety guidelines is one of the reasons California will not authorize the reopening of nail salons until the third phase, Newsom said.
Some salons have already reopened despite Newsom's phased approach. In Northern California, a line stretched out the door of a Yuba City salon on Wednesday. Some customers wore masks while others did not. At least 33 salons operating illegally have been shut down across the state, according to Newsom.
The public health officer who allowed restaurants and salons to open in defiance of a statewide shutdown acknowledged that many businesses were not following proper safety protocols.
The announcement from Dr. Phuong Luu, the health officer for Yuba and Sutter counties, came as state officials threatened to revoke alcohol licenses from restaurants that followed Luu's reopening order, which went into effect Monday.
California officially entered the first phase of stage two on Friday, which allows curbside pickup at retail stores and the reopening of parks and hiking trails. Dining inside a restaurant or visiting a salon are prohibited under Newsom's statewide stay-at-home order.
https://www.nbcnews.com/news/us-news/california-gov-newsom-says-community-spread-started-nail-salon-n1203491
"TAKE IT OR LEAVE IT," IS HURTING PATIENT CARE
Coast Surgery Center of Huntington Beach, CA is suing some of the largest health insurance providers in the country; United Health Care, Cigna, Aetna, Anthem Blue Cross of California, Blue Shield of California, Blue Cross Blue Shield Associates, and all Blue Cross Blue Shield affiliated companies for illegal, coercive, unfair, fraudulent practices, bad faith and deceptive advertisements.
When patients need a provider, they often look for an in-network provider to save them money but when a patient requires an out-of-network specialist or wants a provider they trust, insurance carriers like Blue Cross, utilize a separate rate for these out-of-network providers. Even before services are rendered to a patient, the out-of-network provider and facility obtain authorization with the insurance carrier for approval and are provided with the usual, customary, and reasonable (UCR) rate. Based on the UCR rate provided by the insurance, the provider and patient understand that if they are to proceed, how much the insurance company will reimburse.
This lawsuit arises because Blue Cross is intentionally underpaying Coast Surgery Center even after Coast had obtained authorization and was provided with the UCR rates from Blue Cross. Blue Cross's scheme was to significantly reduce the reimbursement rate from UCR to below Medicare rate and this is a "take it or leave it" offer.
For example, Coast Surgery Center billed Blue Cross $49,550 for a surgery and Blue Cross paid $202.99! Medical facilities cannot stay in business and offer quality service to patients when they are unable to cover rent, let alone utilities, supplies, and staff. Why would a patient purchase insurance coverage that's hundreds of dollars a month when they can walk into a surgery center and just pay only $202.99 for their surgery? It's inconceivable that Blue Cross can consider this "usual, customary, and reasonable." Blue Cross was paying 75% – 100% of approved out-of-network charges to Coast Surgery Center prior to 2019 but since 2019 to July 2022, Blue Cross has only paid 1.59% of bills totaling over $6M, for the same procedures they have approved before, so how is this "usual, customary, and reasonable?"
Blue Cross collects billions of dollars from insurance premiums each year but is too greedy to pay out the providers that have rendered services to patients. Blue Cross is the middle man taking money from customers, paying pennies to the dollar to providers, and keeping a large chunk for themselves without having to lift a finger. Contrary to their claims that they care about reducing member healthcare costs, patients have been forced to pay more for their healthcare as a result of their scheming practices, while giving less access to providers of choice. If Blue Cross is not stopped, they will ruin out-of-network medical providers, patients will have limited choices, and the quality of care will diminish. Blue Cross is manipulating the system and have conspired with third-party servicers like Multi-plan to defraud many out-of-network providers by coercing them into servicing patients with authorization and then extorting the providers into contracts that only offer significantly reduced rates leaving them in an impossible position.
When deciding their health and the well-being of their families, patients want to be able to select their doctor based on their needs, not based on the insurance carrier's pool of what they have to offer. Blue Cross forces patients to pay higher out-of-pocket costs for using out-of-network providers, ultimately, its practices increase costs and deprive patients of their right to choose their doctors.
Blue Cross and many large insurance companies pay lobbyists to help create laws that allow them loopholes to be able to get away with cheating their customers. Customers then purchase insurance policies that might not even cover them when they need it. When customers get frustrated and demand the insurance to pay or want to ring the alarm, the insurance company pays Medicare rate, instead of paying the UCR rates as they really should be. This doesn't make any sense when insurance premiums increase annually, and coverage keeps decreasing.
California tax payers including patients, doctors, and facilities fund the Department of Insurance and the Department of Managed Healthcare (DMHC) so that they can ensure consumers of their healthcare rights and to protect consumers from being cheated. Yet these departments have ignored these insurance companies or are not aware of their tactics. These Departments should be protecting consumers and investigating these insurance payout processes because the insurance companies are working the system and using the loophole to scam customers of millions of dollars in premiums and paying out next to nothing or nothing at all. So the Dept of Insurance and DMHC should be protecting patients, instead of protecting the health insurance companies and letting them work the system.
If you are a medical provider or facility that feels you've been pressured by insurance companies to accept an unreasonable rate for your services, file your complaint with the Department of Managed Health Care by calling (888) 466-2219 https://www.dmhc.ca.gov/ or write to them at 980 9th St., #500, Sacramento, CA 95814. You can also contact the Department of Insurance at (800) 927-4357 https://www.insurance.ca.gov/ or your local political representative – who are no paid directly or indirectly by lobbyists for those private health insurance companies. You can also share your story with Truth Media or be referred for legal representation with a specialized attorney for your case against the insurance companies for illegal, coercive, unfair, fraudulent practices, bad faith, and deceptive advertisements by emailing info@truthmedia.news.