Most Asian Americans are against the recall, but some haven't forgiven Newsom for his nail salon remark
Phuoc Dam has not forgiven Gov. Gavin Newsom for alleging that the first coronavirus case in California stemmed from a nail salon.
Dam, who owns Queen Nails in Brea, is still reeling from months without income after Newsom closed many businesses to stop the virus from spreading.
He marked his ballot "yes" on recalling Newsom, putting it in the mail weeks ago.
"It's simple. He cost us our livelihood," said Dam, 67, a Republican who moved to the U.S. from Vietnam. "We had to shut down for months and months for no clear reason."
"I tell you, the governor was partying without a mask with his friends while telling us to wear masks"
Asian Americans have increasingly gravitated toward the Democratic party, overwhelmingly supporting Joe Biden over Donald Trump in the last presidential election.
A poll released Friday by the UC Berkeley Institute of Governmental Studies and cosponsored by the Los Angeles Times showed that 70% of likely Asian American voters are against recalling the Democratic governor.
That's a higher percentage than white voters at 56% and Latinos at 67%. Only Black voters, at 73%, are more anti-recall than Asian Americans, according to the poll.
But in Little Saigon, opinions are more mixed. Many Vietnamese immigrants are vehemently anti-communist, which often translates into support for the Republican Party.
President Trump's tough-on-China stance endeared him to many Vietnamese, strengthening their conservative loyalties.
Add to that the plight of business owners during the pandemic and Newsom's nail salon remark, which was not backed by evidence, and the pro-recall contingent here is passionate.
Nail salons, along with other small businesses, have been an economic mainstay for Vietnamese immigrants, vaulting them into the middle class.
Vietnamese-language radio and television commentators have called the Republican-led recall the "top issue" facing the state, sprinkling their reports with images of Democratic heavyweights like Vice President Kamala Harris and former President Obama campaigning with Newsom.
The Vietnamese media has tried to stay neutral, offering information on what it takes to mount a recall while highlighting the "optimistic" mood among Democrats as well as Republican efforts to topple the status quo.
Larry Elder, the Republican frontrunner to replace Newsom if the recall is successful, has courted Asian voters by attacking the governor's business shutdowns and highlighting how Asian American students have been hurt by affirmative action.
But Elder, a conservative radio talk show host with roots in South Los Angeles, has not caught on broadly among Asian Americans, either in Little Saigon or statewide.
The UC Berkeley poll showed 23% of likely Asian American voters selecting Elder for question two — the lowest of any ethnic group.
Dam, who has owned his nail salon for more than 20 years, said he left the second question blank because he is not familiar with the challengers.
After reopening last fall, his salon is down from 22 employees to 10. Customers are still fearful of outings like manicures and pedicures that require sustained indoor contact, and some workers are reluctant to come back, he and other salon professionals said.
Dam pointed to the French Laundry incident, when Newsom was caught violating his own coronavirus restrictions by dining with several other families at an expensive restaurant.
"I tell you, the governor was partying without a mask with his friends while telling us to wear masks," Dam said. "He made it appear as if the law doesn't apply to him, and this is not what people in Little Saigon respect. They respect the truth."
At a small rally organized by Vietnamese recall proponents last month in Westminster, manicurists demanded that Newsom be ousted for not publicly apologizing that he and his staff made a mistake in May by singling out a nail salon as ground zero for the coronavirus.
Some passed out fliers with images of Newsom unmasked, to show that he flouted his own safety guidelines. Others gave interviews to radio and television reporters, detailing the huge financial losses they suffered after their salons closed.
At the start of the pandemic in March 2020, California was home to 11,000 nail salons, with 80% owned by Vietnamese Americans, according to the Pro Nails Assn.
Experts say the backlash against Newsom in the Vietnamese community is not surprising.
"Certainly, there's a sense of insult to the community when a core group of its members has been portrayed negatively like this — especially when that community historically has leaned toward the Republicans" because of the party's consistent anti-communist messaging, said Sara Sadhwani, assistant professor of politics at Pomona College who has researched voting behavior with an emphasis on the representation of racial, ethnic and immigrant communities.
Sadhwani said that while Chinese Americans, Filipino Americans, Indian Americans and Korean Americans have steadily leaned toward the Democratic Party, Vietnamese Americans often have followed a different path.
In a poll conducted a few months before the 2020 presidential election, Vietnamese Americans were the only Asian group to support Trump over Biden.
California Gov. Newsom says community spread started at nail salon
Reported by NBC News
May 8, 2020, 7:22 PM PDT / Updated May 10, 2020, 4:27 PM PDT
He said he couldn't provide more information because of health and privacy concerns.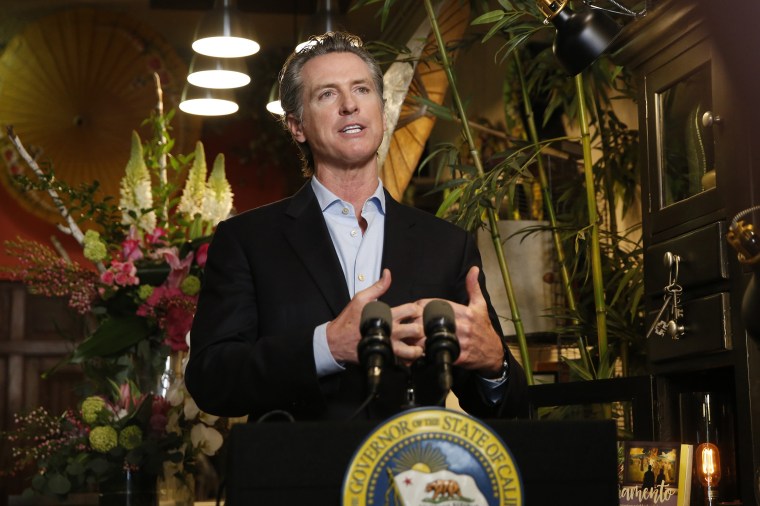 After dropping a provocative remark that community spread of coronavirus in California started at a nail salon, Gov. Gavin Newsom declined Friday to provide additional details about where the salon was located and how health officials traced the case.
"This whole thing started in the state of California, the first community spread, in a nail salon. I just want to remind everybody of that and that I'm very worried about that," Newsom said Thursday during his daily COVID-19 briefing in Sacramento.
On Friday, despite requests from multiple media organizations, he said he could not release more information because of health and privacy concerns. He added that his office would provide additional details when possible.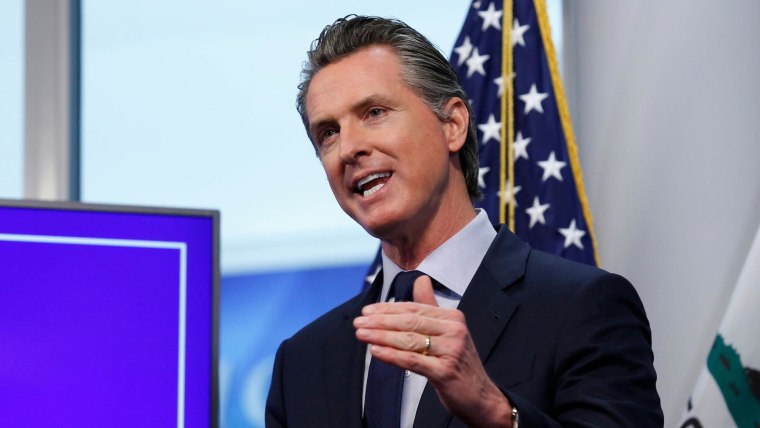 "There are, and I know everybody watching understands this, health and personal privacy obligations that are bigger than any public statements that have to be abided by, legal parameters, as it relates to that first case," Newsom said during a news conference.
The first known case of community spread in the California was reported in Solano County in late February. Officials more recently said the first known death from COVID-19 was recorded in Santa Clara County. Both are in Northern California.
Newsom's initial comment triggered immediate backlash from the beauty industry, which called his statement "surprising and disappointing."
"As a former restaurateur himself, the governor knows the daily struggles of small business owners such as the 11,000 nail salons in California where approximately 80 percent of salons are owned and operated by Vietnamese Americans," said Mike Vo, board chair of the Pro Nails Association in Irvine.
"It also pains us as law-abiding Americans living and working in California that the governor's remarks may contribute to further anxiety and even heightened fear in today's unfortunate toxic environment," he added.
Speaking from inside a Sacramento flower shop on Friday, Newsom addressed concerns that his comments could ultimately hurt the nail industry.
"Oh my gosh that industry is noble," he said. "It's an opportunity … an exit point out of poverty. It's one of the most entrepreneurial industries in our country. I have a deep reverence for those entrepreneurs."
He went on to add that the statement was not meant to be an "indictment" of the industry as a whole, but instead an explanation of why personal care services such as manicures will be included in the third phase of California's reopening and not sooner.
Despite attempting to distance himself from any negative fallout, an association of salons and barber shops said it would sue to try to force Newsom to let them reopen sooner, arguing they already undergo extensive training on sanitation and are licensed by the state, NBC affiliate KCRA reported.
The California Board of Barbering and Cosmetology recommends that nail technicians wear gloves and masks to protect workers from inhaling toxic chemicals, but it does not require protection for all services. Streamlining safety guidelines is one of the reasons California will not authorize the reopening of nail salons until the third phase, Newsom said.
Some salons have already reopened despite Newsom's phased approach. In Northern California, a line stretched out the door of a Yuba City salon on Wednesday. Some customers wore masks while others did not. At least 33 salons operating illegally have been shut down across the state, according to Newsom.
The public health officer who allowed restaurants and salons to open in defiance of a statewide shutdown acknowledged that many businesses were not following proper safety protocols.
The announcement from Dr. Phuong Luu, the health officer for Yuba and Sutter counties, came as state officials threatened to revoke alcohol licenses from restaurants that followed Luu's reopening order, which went into effect Monday.
California officially entered the first phase of stage two on Friday, which allows curbside pickup at retail stores and the reopening of parks and hiking trails. Dining inside a restaurant or visiting a salon are prohibited under Newsom's statewide stay-at-home order.
https://www.nbcnews.com/news/us-news/california-gov-newsom-says-community-spread-started-nail-salon-n1203491
"TAKE IT OR LEAVE IT," IS HURTING PATIENT CARE
Coast Surgery Center of Huntington Beach, CA is suing some of the largest health insurance providers in the country; United Health Care, Cigna, Aetna, Anthem Blue Cross of California, Blue Shield of California, Blue Cross Blue Shield Associates, and all Blue Cross Blue Shield affiliated companies for illegal, coercive, unfair, fraudulent practices, bad faith and deceptive advertisements.
When patients need a provider, they often look for an in-network provider to save them money but when a patient requires an out-of-network specialist or wants a provider they trust, insurance carriers like Blue Cross, utilize a separate rate for these out-of-network providers. Even before services are rendered to a patient, the out-of-network provider and facility obtain authorization with the insurance carrier for approval and are provided with the usual, customary, and reasonable (UCR) rate. Based on the UCR rate provided by the insurance, the provider and patient understand that if they are to proceed, how much the insurance company will reimburse.
This lawsuit arises because Blue Cross is intentionally underpaying Coast Surgery Center even after Coast had obtained authorization and was provided with the UCR rates from Blue Cross. Blue Cross's scheme was to significantly reduce the reimbursement rate from UCR to below Medicare rate and this is a "take it or leave it" offer.
For example, Coast Surgery Center billed Blue Cross $49,550 for a surgery and Blue Cross paid $202.99! Medical facilities cannot stay in business and offer quality service to patients when they are unable to cover rent, let alone utilities, supplies, and staff. Why would a patient purchase insurance coverage that's hundreds of dollars a month when they can walk into a surgery center and just pay only $202.99 for their surgery? It's inconceivable that Blue Cross can consider this "usual, customary, and reasonable." Blue Cross was paying 75% – 100% of approved out-of-network charges to Coast Surgery Center prior to 2019 but since 2019 to July 2022, Blue Cross has only paid 1.59% of bills totaling over $6M, for the same procedures they have approved before, so how is this "usual, customary, and reasonable?"
Blue Cross collects billions of dollars from insurance premiums each year but is too greedy to pay out the providers that have rendered services to patients. Blue Cross is the middle man taking money from customers, paying pennies to the dollar to providers, and keeping a large chunk for themselves without having to lift a finger. Contrary to their claims that they care about reducing member healthcare costs, patients have been forced to pay more for their healthcare as a result of their scheming practices, while giving less access to providers of choice. If Blue Cross is not stopped, they will ruin out-of-network medical providers, patients will have limited choices, and the quality of care will diminish. Blue Cross is manipulating the system and have conspired with third-party servicers like Multi-plan to defraud many out-of-network providers by coercing them into servicing patients with authorization and then extorting the providers into contracts that only offer significantly reduced rates leaving them in an impossible position.
When deciding their health and the well-being of their families, patients want to be able to select their doctor based on their needs, not based on the insurance carrier's pool of what they have to offer. Blue Cross forces patients to pay higher out-of-pocket costs for using out-of-network providers, ultimately, its practices increase costs and deprive patients of their right to choose their doctors.
Blue Cross and many large insurance companies pay lobbyists to help create laws that allow them loopholes to be able to get away with cheating their customers. Customers then purchase insurance policies that might not even cover them when they need it. When customers get frustrated and demand the insurance to pay or want to ring the alarm, the insurance company pays Medicare rate, instead of paying the UCR rates as they really should be. This doesn't make any sense when insurance premiums increase annually, and coverage keeps decreasing.
California tax payers including patients, doctors, and facilities fund the Department of Insurance and the Department of Managed Healthcare (DMHC) so that they can ensure consumers of their healthcare rights and to protect consumers from being cheated. Yet these departments have ignored these insurance companies or are not aware of their tactics. These Departments should be protecting consumers and investigating these insurance payout processes because the insurance companies are working the system and using the loophole to scam customers of millions of dollars in premiums and paying out next to nothing or nothing at all. So the Dept of Insurance and DMHC should be protecting patients, instead of protecting the health insurance companies and letting them work the system.
If you are a medical provider or facility that feels you've been pressured by insurance companies to accept an unreasonable rate for your services, file your complaint with the Department of Managed Health Care by calling (888) 466-2219 https://www.dmhc.ca.gov/ or write to them at 980 9th St., #500, Sacramento, CA 95814. You can also contact the Department of Insurance at (800) 927-4357 https://www.insurance.ca.gov/ or your local political representative – who are no paid directly or indirectly by lobbyists for those private health insurance companies. You can also share your story with Truth Media or be referred for legal representation with a specialized attorney for your case against the insurance companies for illegal, coercive, unfair, fraudulent practices, bad faith, and deceptive advertisements by emailing info@truthmedia.news.
CHỦ SỞ HỮU CỦA LEE SANDWICHES CẮT ĐỨT CÁNH TAY ĐANG LÀM THỨC ĂN CHO CHÍNH MÌNH
Nhiều người Mỹ nhập cư đến đây để trốn khỏi đất nước đang gặp khó khăn của họ, tìm kiếm sự tự do khỏi cuộc đàn áp, hoặc để có cơ hội kinh tế tốt hơn. Đa số người Việt Nam nhập cư đến Mỹ vì tất cả những lý do này. Sau 45 năm, người Mỹ gốc Việt đang sống với giấc mơ Mỹ; họ sở hữu những ngôi nhà và cơ sở kinh doanh, có trình độ học vấn cao và họ cống hiến cho cộng đồng của họ. Nhiều người đã trở thành Công dân Hoa Kỳ, bỏ phiếu và một số thậm chí ứng cử vào văn phòng chính phủ. Nhưng khi những người Mỹ gốc Việt ăn mừng tự do của họ vào ngày 4 tháng 7 với tất cả những người Mỹ khác, thì có những người Mỹ gốc Việt sống giữa chúng tôi với tư cách là những kẻ phản bội và cộng sản.
Những người sống giữa chúng ta, sẽ không bao giờ tuyên bố mình là Cộng sản vì sợ công chúng thù địch. Nhưng với trường hợp của ông chủ Lee's Sandwiches, ông Lê Văn Chiêu, ông có vẻ không quan tâm đến những gì người dân của mình nghĩ. Vào ngày 17 tháng 5 năm 2022, Thủ tướng Quốc gia cộng sản Việt nam, Phạm Minh Chính, đã đến thăm San Francisco và gặp gỡ Lê Văn Chiêu tại một sự kiện riêng (như hình thứ hai bên trái của bức ảnh dưới đây). Những người Mỹ gốc Việt nghe nói về điều này, đã rất phẫn nộ khi một người Mỹ rời bỏ đất nước của mình, xây dựng sự giàu có của mình trên đất Mỹ, và được rất nhiều người Mỹ ủng hộ, đã phản bội họ hết lần này đến lần khác. Khi Lê Văn Chiêu gặp Thủ tướng Nguyễn Minh Triết vào năm 2007, tại Dana Point, nhiều người Mỹ gốc Việt đã biểu tình bên ngoài cửa hàng Lee's Sandwich của ông nhưng ông không rút ra bài học và tiếp tục đâm sau lưng những người ủng hộ mình.
Thật đáng buồn và đáng tiếc khi những tờ báo Việt Mỹ nhận tiền quảng cáo từ Lee's Sandwiches lại chấp nhận ngậm miệng ăn tiền để không in về sự kiện ngày 17 tháng 5 năm 2022. Nếu muốn tìm kiếm sự kiện này trên Google, tất cả các bài báo đều được viết bởi các phương tiện truyền thông của Việt Nam chứ không phải ở Hoa Kỳ.
Lý do Lê Văn Chiêu liên kết với cộng sản là để họ có thể giúp ông ta vượt qua tội danh lừa dối công chúng bằng cách in trái phép nhãn USDA trên các sản phẩm của Lee's Sandwiches. Về cơ bản, Lê Văn Chiêu đã quay lưng lại với những người đồng hương Mỹ của mình và đang nuôi dưỡng mối quan hệ của mình với những người cộng sản, chính chính phủ mà ông đã phải thoát ly. Một mặt, ông ta kiếm được của cải và tài sản của mình với những người bảo trợ Mỹ và mặt khác, ông ta đang bắt tay với cộng sản Việt Nam. Về cơ bản, ông ta đang cắn xé bàn tay nuôi sống mình và sẵn sàng phản bội đạo đức của chính mình để có được thứ ông ta muốn.
—————————————–
LEE'S SANDWICHES OWNER BITES THE HAND THAT FEEDS HIM
Many immigrant Americans came here to escape their troubled countries, seeking freedom from persecution, or for better economic opportunities. A majority of Vietnamese immigrants came to America for all these reasons. After 45 years, Vietnamese Americans are now living the American dream; they own homes and businesses, are highly educated, and they give back to their community. Many have become U.S. Citizens, vote, and some even run for government office. But as Vietnamese Americans celebrate their freedom on July 4th with all other Americans, there are Vietnamese Americans living amongst us as traitors and communists.
Those who live amongst us, will never declare themselves as Communist for fear of public hostility. But in the case of Lee's Sandwiches owner, Le Van Chieu, he seems to not care what his people think. On May 17, 2022 the Prime Minister of the Vietnamese Communist Country, Pham Minh Chinh, visited San Francisco and met with Le Van Chieu at a private event (as seen second to the left of the photo below). Vietnamese Americans who heard of this, are outraged that an American who left his country, built his wealth on American soil, and supported by so many Americans, has betrayed them over and over. When Le Van Chieu met Prime Minister Nguyen Minh Triet in 2007, in Dana Point, many Vietnamese Americans had protested and picketed outside his Lee's Sandwich shop but he didn't learn his lesson and continues to backstab his supporters.
It's sad and unfortunate that Vietnamese American Newspapers that receive advertisement money from Lee's Sandwiches accepted hush money to not print about the May 17, 2022 event. If one to were to search this event on Google, all articles are written by Vietnam's media and not in the U.S.
Le Van Chieu's reason for his affiliation with the communist is so that they can help him through his convicted criminal charge of deceiving the public by illegally printing USDA labels on Lee's Sandwiches products. Basically, Le Van Chieu has turned his back on his fellow Americans and is nourishing his relationship with communists, the same government that he had to escape from. On one hand, he earned his wealth and fortune with American patrons and on the other hand he is shaking hands with Vietnamese communist. He is basically biting the hand that feeds him and is willing to betray his morals to get what he wants.